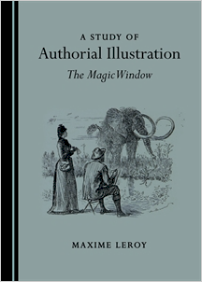 Maxime Leroy, A Study of Authorial Illustration: The Magic Window, Cambridge Scholars Publishing, 2019, 109 p.
This book analyses the practice of illustrating one's own works of literature. The first part discusses theoretical aspects of authorial illustration and suggests some critical approaches to it. In particular, it considers the use of systemics as an actionable framework for its study. The second part consists of commentaries on specific illustrations. The book adopts a conversational style, providing academics and students in literature and the fine arts with an enjoyable, scholarly introduction to this thriving field of research.
Maxime Leroy is a Senior Lecturer in English Studies at the Université de Haute-Alsace, France. His doctoral thesis focused on authorial prefaces, from Walter Scott to Joseph Conrad. His research examines the status and significance of authorial paratexts such as prefaces and illustrations in Victorian and Edwardian fiction.
Table des matières :
Introduction
Chapter One: A Conversation on Authorial Illustration
Chapter Two: Case Studies
1. Samuel Lover, "The Old House in Galway", Treasure Trove, 1844
2. William Makepeace Thackeray, "Rebecca's Farewell", Vanity Fair, 1847
3. Cuthbert Bede, The Adventures of Mr. Verdant Green, 1851-1852
4. Lewis Carroll, The Adventures of Alice Under Ground, 1864
5. Robert Michael Ballantyne, "Glumm defies the King", Erling the Bold, 1869
6. Mark Twain, "William III", "The Portrait", 1871 and "The Lorelei", A Tramp Abroad, 1880, and F. C. Burnand, "Soft repose", Happy-Thought Hall, 1872
7. Robert Louis Stevenson, Moral Emblems and Other Poems, 1882
8. George Du Maurier, Peter Ibbetson, 1891
9. Rudyard Kipling, "The Whale swallowing the Mariner", Just So Stories, 1902
10. Edith Œ. Somerville and Martin Ross, "She drifted, rudderless", Stray-Aways, 1920
11. Jacque-Emile Blanche, Aymeris, 1922 and Jeanne Ramel-Cals, Vacances à Villefranche, 1927
12. G. R. G. Worcester, The Junkman Smiles, 1959
Conclusion
ISBN-13 : 978-1-5275-1854-4
ISBN-10 : 1-5275-1854-X
Date de publication : 01/01/2019
Pages : 109p.
Prix : £58.99